Helios Restaurant is back as the title sponsor for Champlain Community Centre's most popular event of the year: the Family New Year's Eve Party!
This annual event features skating, bonfires, bounce houses, and a variety of roving entertainment from balloons to airbrush tattoos.
The canteen will be open and will feature pizza by the slice (from Helios Restaurant!), hot dogs, chilli, cotton candy, and the usual canteen snacks and drinks (cash only).
Cost to attend is $10 per family (cash at the door), and of course the 9:15pm fireworks show is free to anybody within line of sight! Our fireworks show won't disappoint, thanks to a generous contribution from our title sponsor, Helios Restaurant!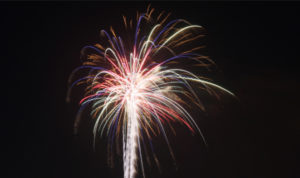 And if you'd like to help, join us at 5:30pm on the 31st for a quick introductions meeting and to discuss general safety matters (e.g., where to go for first aid), etc. For more info, please contact Janice at president@champlaincc.ca