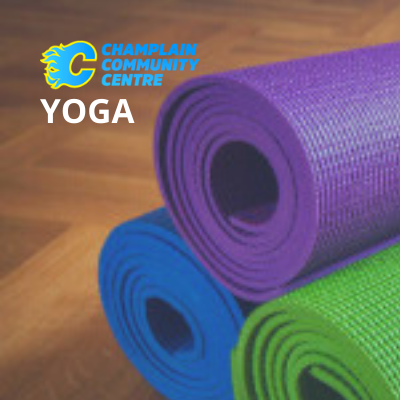 Yoga with Robyn is centred on the mindset of "to cultivate balance for life, mind, body and spirit. It is open to all participants over the age of 16.
Minimum 7 participants required
Thursdays, 7:00pm – 8:00pm
Saturdays, 10:00am – 11:00am
$115 for each 10 week session (October 5 to December 7 & October 7 to December 9, 2023)
$100 for any add -on classes per week during the 10 week session (add on class could be an additional day of Yoga or combined with Group Circuit or Zumba)
If you are booking any number of add-on classes, please email programs@champlaincc.ca with what your add-on class choices are.
Drop in rate- $15/class
Mats, blocks and straps available for all participants. You are welcome to bring your own favourite mat and water bottle to class.
Refund Policy
Champlain CC understands that sometimes circumstances require that you need to withdraw from a program. You can withdraw your registration, provided the program has not officially started. There will be a $15 refund fee to cover the admin costs of the registration/refund.